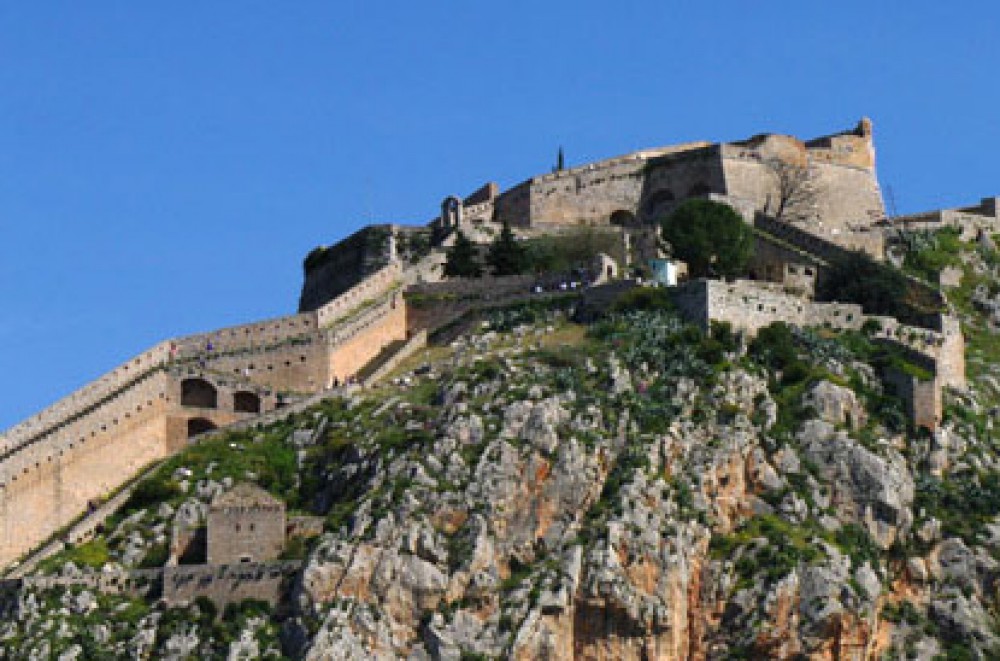 Discover the Emblematic Landmark on Top of Nafplio
Standing 216 meters high, the fortress of Palamidi is an emblematic landmark of Nafplio. There are 999 stairs taking you from the town to the top of the castle, which is an exhausting yet highly rewarding route. Of course, there is the alternative of driving to the top and only having to walk for a few minutes to access the site.
Once you reach the top, the view from the fortress is purely mesmerizing. You can see the cobalt blue of the Argosaronic Gulf in front of you, as well as the embroidered coastline and the lush greenery all around. Mountain peaks and valleys, bays and the infinite sea, they are all there and their view is bound to make your heart beat faster.
The fortress was completed as a structure under the ruling of Venetians, who have included eight bastions and have designed everything to the slightest detail. As soon as you enter the site, you will be able to stroll up and down the cobbled pathways and explore the monuments that still remain intact.
An iconic general frim the Greek Revolution against the Ottomans, Theodoros Kolokotronis, was supposed to have been imprisoned at Palamidi and you will have the chance to step into his dungeon, taking just a glimpse of his isolation and torture. Some historians have questioned the validity of his imprisonment there, but it is still a breathtaking visit to a secluded place where nobody can survive long.
Schedule your visit to Palamidi Fortress, so as to capture some of the most exquisite pictures from your journey and admire the view from a privileged spot. And after having basked under the Greek sun, enjoy some ice-cold lemonade just outside, catching you breath and getting ready for new discoveries!